The alleged guy is a chinese model
Shaoyi Zhang(Raycley)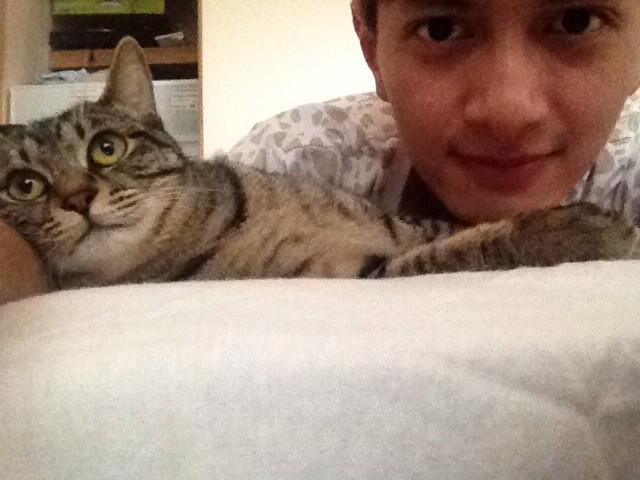 He said:
"Sorry, I'm the real one. We're just a friend, only go home together.
I've already identified the guy that peeping from behind,
already talked to him, so it's not requird to do anything."
https://twitter.com/...076289514262528
Summary
High school student took a pic of Airi, said that she's doing lovey-dovey with a guy in a bus, then upload it on twitter.
↓
A few days before, a Johnny fans tweeted about she saw Airi & Sexy Zone Kikuchi Fuma go home together, wearing a mask, so wota assume that boy next to Airi is may be a Kikuchi.
↓
A Chinese student named Raycley confessed that the guy sat next to Airi is himself, and said that they're just a friend, and didn't know that Airi is a Star / Idol, even apologize on 2ch.
↓
Everything seems clear, until wotas discovered about Raycley often doing an Anti-Japan and Taiwan comment through his social media, often claims that China is superior at everything.
↓
Raycley starts deleting his tweets & post on Baidu etc related to that, at this time he starting to get depressed (screen caps above), experiencing the internet teror.
↓
Wota discovered that he and Airi often doing a personal meeting, and communication through Blog and Twitter, since April (3 month ago), here some summary:
Airi = Blog, Raycley = Twitter
Raycley : "Starts doing part time job"
Airi : "For student who starts part time job, ganbatte!"
Raycley : "Starting part time job at Soba shop"
Airi : "I went to Soba shop, Soba shop delicious, standing eating is the best, full buckwheat"
Airi : "on a break time I've been studying Chinese"
Raycley : "on a break time I teach Chinese"
Airi : "Curry delicious"
Raycley : "a Curry that Airi taught on a Cafetaria is delicious"
Airi : "I'm not alone"
Raycley : ""I'm not alone" lyrics is great"
and more
↓
that was the current progress
_________
some news report
http://www.rbbtoday..../26/109505.html
Already doing many meetings, and personal communications.. there is no way he didn't know that Airi is an Idol
by looking on her blog everyone knows that she is a girl that doing an Entertainment Jobs
He lied about not knowing that Airi is an Idol
Credits: Hello Online
2ch Comments
http://majide2ch.blo...th-chinese.html
LOOOOL
Isn't this girl like the last stronghold of the declining Hello! Pro?
This might put an end to anything related to Hello! Pro.
All that's left is for Momochi to act as a solo talent.