Suga randomly released this in the middle of the night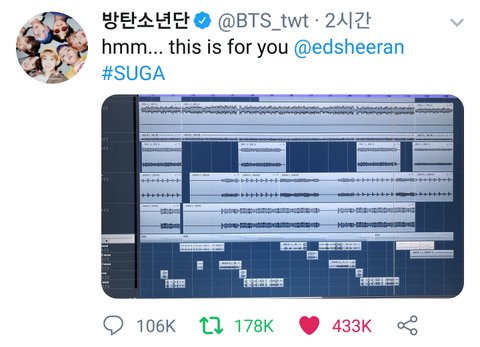 Some time ago, I saw an article saying they were making a song for Ed Sheeran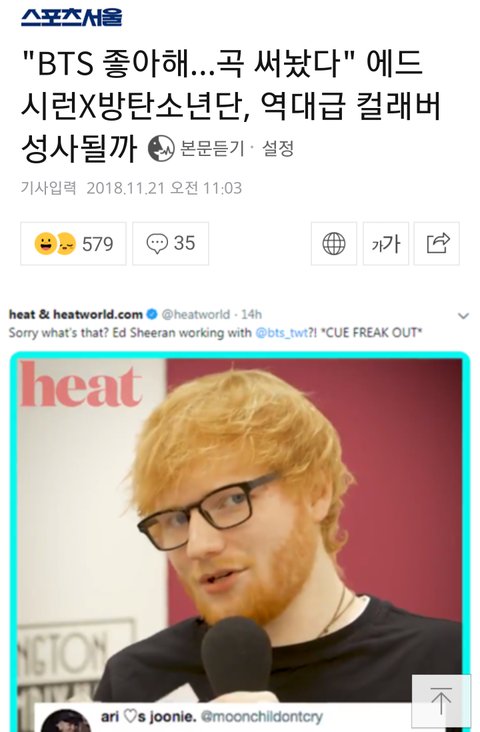 ㅇㅇ |2018.12.06 09:38 신고하기 Scream Min Yoongi!!
ㅇㅇ |2018.12.06 08:55 신고하기 It's a collab. I'm not sure if it's BTS' song, I think it'll be an Ed Sheeran song. They're working for him. I feel like they'll release it soon ㅎ
ㅇㅇ |2018.12.06 08:30 신고하기 Some weeks ago, Ed Sheeran was giving an interview saying how he wanted to write songs with BTS and Army freaking created a huge buzz out of it, I think it'll be a collab that has to do with inner peace and calm, and today I saw what happened on Twitter's trending and it was fire!'ㅜㅜㅜㅜㅜ!!!!!
ㅇㅇ |2018.12.06 18:02 신고하기 Wow seriously you can't reach Bangtan's level of collab ㅋㅋㅋㅋㅋ They're so amazing
ㅇㅇ |2018.12.06 14:00 신고하기 The UK army are especially excited ㅋ
ㅇㅇ |2018.12.06 09:45 신고하기 Playing with the entire world
https://pann-choa.bl...ng-with-ed.html