tvN Presents...
"What's Wrong with Secretary Kim?"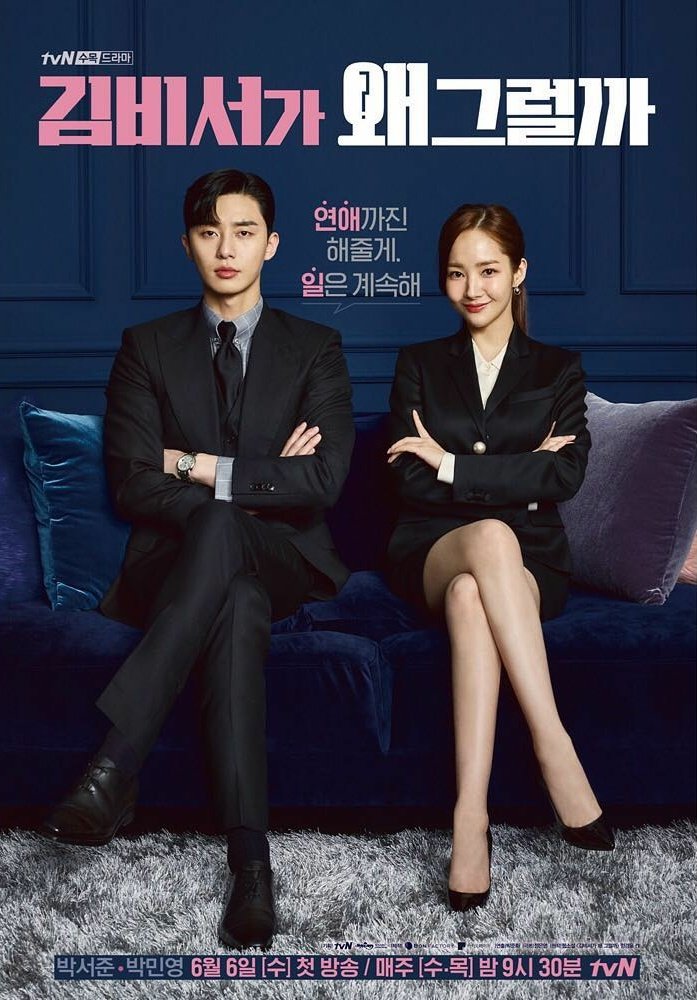 Profile
Drama: What's Wrong With Secretary Kim (English title) / Why Secretary Kim (literal title)
Revised romanization: Kimbiseoga Wae Geureolgga
Hangul: 김비서가 왜 그럴까
Director: Park Joon-Hwa
Writer: Jung Kyung-Yoon (novel), Jung Eun-Young
Network: tvN
Episodes: TBA
Release Date: 6th June, 2018 --
Runtime: Wed. & Thu. 21:30
Language: Korean
Country: South Korea
Notes
"Why Secretary Kim" takes over the

tvN

Wed. & Thu. 21:

30 time

slot previously occupied by "My Mister"

Based on the novel "Kimbiseoga Wae Geureolgga" by Jung Kyung-Yoon (first published April 3,

2013

by Gaha).

Webcomic "Kimbiseoga Wae Geureolgga" by Kim Young-Mi is also based on the novel of

same

name. The webcomic was first published 2016

via page.kakao.com.

Chansung reunited with Park

Min-young

after Seven Day Queen drama, while Pyo Ye-Jin reunited with Park Seo-Joon after Fight for My Way.
Why Secretary Kim held their first official script reading on 10th April.
Plot & Description
Lee Young-Joon's family runs a large company and he works as the vice-president of the company. He is smart, rich and handsome, but he is arrogant. His secretary is Kim Mi-So. She has worked for him for years and she is perfect for him, but Kim Mi-So decides to quit her job.

(source)
Cast
Park Seo-Joon - Lee Young-Joon
Park Min-Young - Kim Mi-So
(5urprise) Lee Tae-Hwan - Lee Sung-yeon
(2PM) Chansung - Go Gwi-nam
Kim Ye-Won - Sul Ma-eum
Pyo Ye-Jin - Kim Ji-ah
Teasers
NOTE: Post will be updated as more information surfaces. Kindly follow this thread for the daily updates.
Thanks, Chingus!