So I have the update that no one asked for to this thread here: https://onehallyu.co...guy-in-my-dorm/
My first day back at uni this semester, he said he was trying to get a job at my place of employment (the dining commons), and I was like: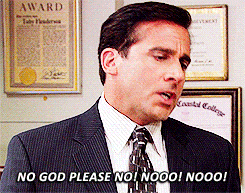 So today I went to catch up with a friend and while there he showed up. I didn't speak to him and focused on the people I knew weren't possibly trying to use me. Long story short, I found out he has a girlfriend, after he said last semester he doesn't want one because he's broke. Now it makes sense why he's trying to get a job. Why get one where I'm working? Idk, he has other friends who work there (I'm trying not to make his job choice about me but it's hard).
So people here were right. I was only good for a possible fuck buddy, nothing more. Some other girl was able to make him change his mind about being broke and single, so congrats to that I guess. I had a good carbonated drink and almost got mad, but now I'm just sad. People lie. People are shitty. It's my job to forgive them for myself and know my worth. Thanks for all the good advice, I'm just focusing on my weight loss goals, school, and my job now.
I think it's best if I just don't crush on anybody anymore for the duration of my life let's be real