MBC Presents...
Hospital Ship (하백의 신부)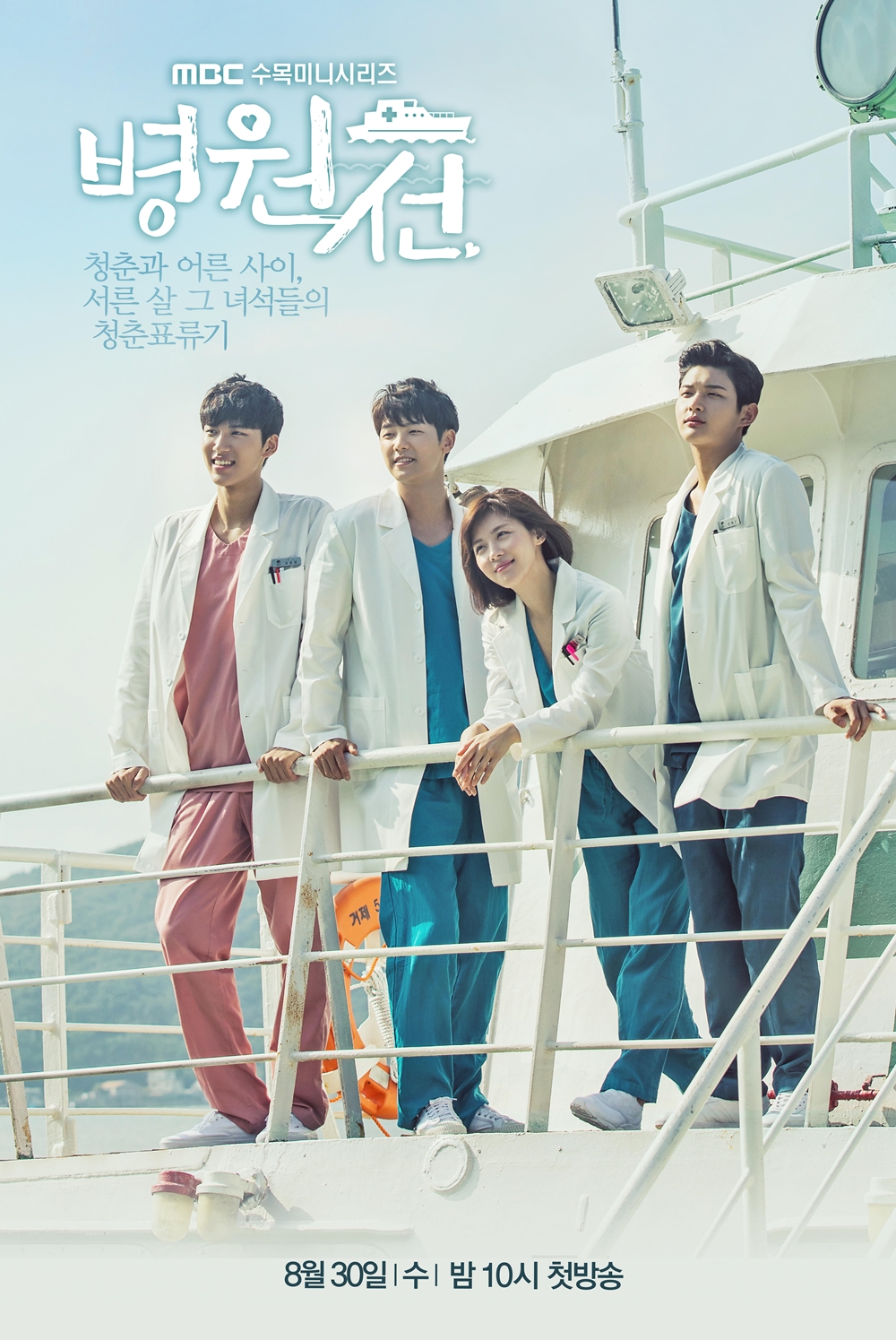 Profile
Drama: Hospital Ship (literal title)
Revised romanization:Byungwonsun
Hangul: 병원선
Director: Park Jae-Bum
Writer: Yoon Sun-Joo
Network: MBC
Episodes: TBA
Release Date: 30th August, 2017 --
Runtime: Wednesdays & Thursdays 22:00
Language: Korean
Country: South Korea
Notes
Drama series will takeover the MBC Wednesdays & Thursdays 22:00 time slot previously occupied by "Man Who Dies to Live" and followed by "I'm Not a Robot" October, 2017.

Filming for the drama series takes place mostly on Geoje Island, South Korea.

Choi Jin-Hyuk was first offered the lead male role, but declined.
First script reading took place July 6, 2017 at MBC Broadcasting Station in Sangam, South Korea.
Ha Ji-Won plays a doctor for the first time in her acting career.
Plot
'Hospital Ship' is a medical drama about a ship that sails around an island to provide medical care for the locals. It's about the growth of young doctors and their stories that reflect today's generation. Writer Yoon Sun Joo (King Sejong the Great, Secret Door) will be writing the script and Park Jae Bum PD is directing. Kang Minhyuk is cast for the role of physician Kwak Hyuk. Hospital Ship is expected to premiere in July on MBC's Wed-Thurs following 'Man Who Dies to Live'.
Cast
Ha Ji-Won - Song Eun-Jae
Kang Min-Hyuk - Kwak Hyun
Lee Seo-Won - Kim Jae-Gul
Wang Ji-Won - Choi Young-Eun
Kim In-Sik - Cha Joon-Young
Kang Mina - Yoo A-Rim
Kim Kwang-Kyu - Choo Won-Gong
Jung Kyung-Soon - Pyo Go-Eun
Lee Han-Wi - Bang Sung-Woo
Song Ji-Ho - Kang Jung-Ho
Cha Hwa-Yeon - Oh Hye-Jung
Jung In-Gi - Kwak Sung
Nam Gi-Ae - Lee Soo-Kyung
Jung Won-Joong - Kim Soo-Gwon
Park Jun-Keum - Han Hee-Sook
Wang Ji-Won - Choi Young-Eun
Jo Hyun-Jae - Jang Sung-Ho (cameo)
Source: Asianwiki
====
Script Reading
Teasers
NOTE: Post will be updated as more information surfaces. Kindly follow this thread for the daily updates.
Thanks, Chingus!