SMTM6 producer cypher increases expectations for the show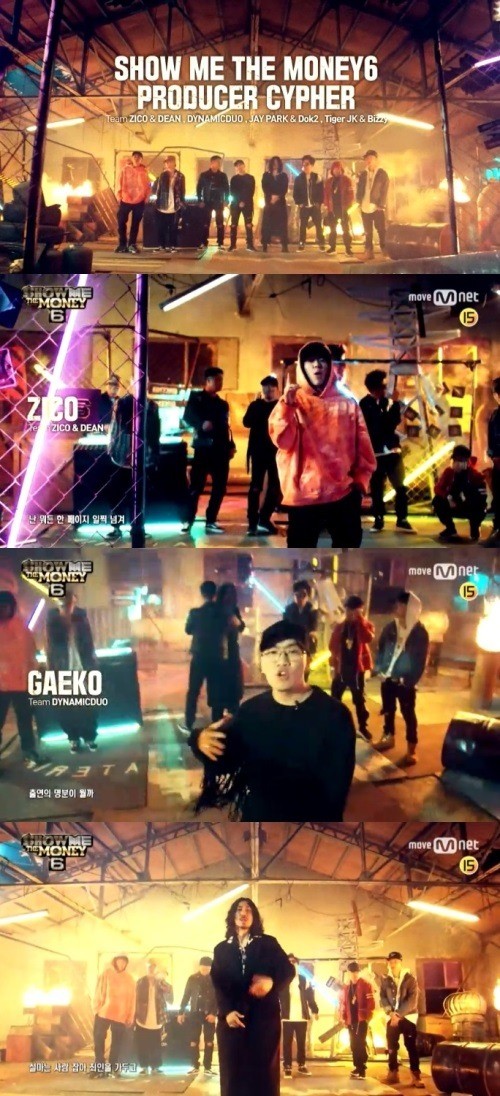 Source
HeraldPOP via Naver News: "Is this line-up for real?"..'SMTM6′ cypher raises expectations for the show
Comments

[1579+ 59-] Zico and Gaeko were really good. Tiger JK's so cool.. and I really like Bizzy's deep voice as well
[1162+ 35-] Gaeko's so good. He's amazing
[1036+ 82-] Zico, Dean, Gaeko were really great
[722+ 25-] Zico Dean, Dynamic Duo, TigerJK Bizzy, Park Jaebum Dok2. All the producers are daebak. Dynamic Duo, Tiger JK daebak.
[844+ 104-] Zico's not an idol ㄷㄷ
[225+ 24-] Why is Choiza so bad at rapping ㅋㅋㅋㅋㅋㅋㅋㅋㅋㅋㅋㅋㅋㅋㅋㅋㅋㅋㅋㅋㅋ He depends on his voice
only for his living. Why is his rap so old fashioned… He's so bad compared to Gaeko.
[184+ 14-] Let's give an applause to the new combination of Park Jaebum and Dok2…
[121+ 5-] JK's not dead… That dignity
[174+ 23-] Choiza should be a contestant, not a judge
[141+ 13-] Everyone has different opinions on the best one out of them according to preferences, but the worst one is definitely Choiza.
[213+ 10-] Zico's young, has good style, leads the trend these days, and is popular with girls, so he definitely has a big impact and presence at the spot, but the contestants with a lot of experience will down on Zico. Younger contestants will probably select Zico and more experienced ones will probably go to Dynamic Duo or TigerJK.
[99+ 5-] Wow…. That's so awesome. Zico is real…. Wow… In the meantime, Tiger JK gives me goosebumps. Wow.
[107+ 8-] Anticipating on Illinaire & AOMG
[102+ 8-] Double-Ko are so awesome.
[88+ 7- ]Choiza…ha… No wonder he's called a has-been.
[64+ 2-] Tiger JK's power is so great… I hope Yoon Mirae does a featuring.
[66+ 5-] Choiza confirmed to be a has-been.
[60+ 3-] For producers, this is the best line-up for all seasons. It's hard to get any better than this.
[55+ 2-] "A poisoned chalice" is what you can probably see in 90s hiphop, but Choiza did it ㅋㅋㅋ
[54+ 3-] Choiza is definitely a has-been.