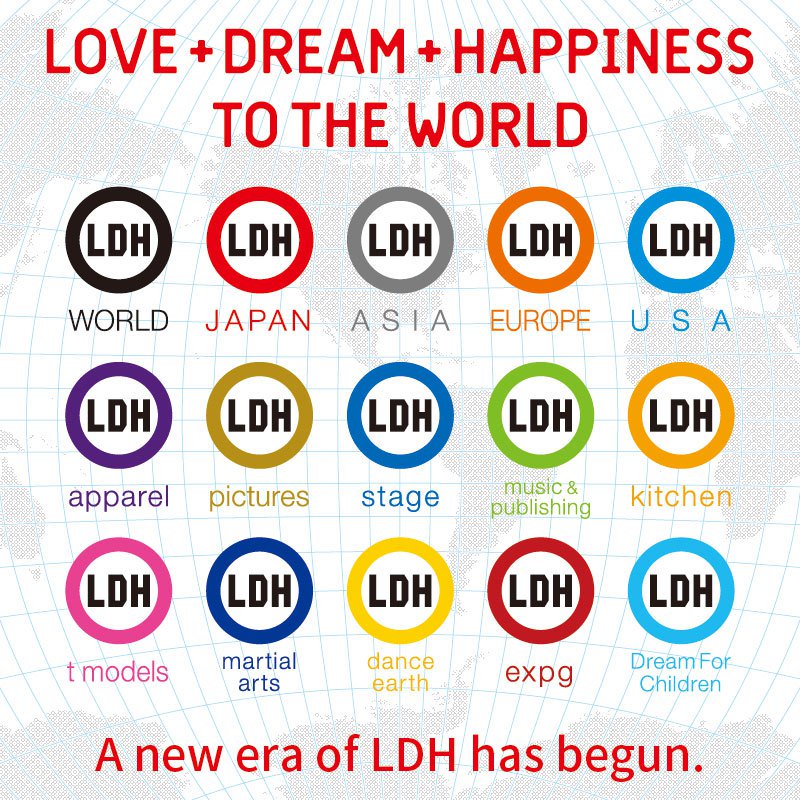 Company Trailer
2017 LDH Entertainment Projects
EXILE ATSUSHI/RED DIAMOND DOGS
2/15 LIVE DVD&Blu-ray「EXILE ATSUSHI LIVE TOUR 2016"IT'S SHOW TIME!!"」 Release!
New Single Release on 2/15 「Stand By Me」
EXILE TAKAHIRO
Produced by EXILE TAKAHIRO
「EX FAMILY Member Only Events」
Dance Earth Party

Dance Earth Party First Album "I" Release on 2/1
EXILE THE SECOND
New single "SUPER FLY" Release on 2/22!

EXILE THE SECOND's second album "BORN TO BE WILD" Release on 3/1!
「EXILE THE SECOND LIVE TOUR 2016-2017 "WILD WILD WARRIORS"」 Added Tour Dates!
Sandaime J Soul Brothers from EXILE TRIBE
J Soul Brothers 21st Single Release 「Happy?」 on 3/8
New 「Best Album」 scheduled for a Spring release
Added tour dates for 「三代目 J Soul Brothers LIVE TOUR 2016-2017 "METROPOLIZ"」
GENERATIONS from EXILE TRIBE
GENERATIONS to hold their second world tour
GENERATIONS 4th Original Album to Release in Summer 2017
2nd Nationwide Arena Tour in 2017
THE RAMPAGE from EXILE TRIBE
Debut Single "Lightning" to release on 1/25

New Untitled single to Release Spring 2017
E-girls
New Album "E.G. CRAZY" Release on 1/18
Flower
New Single "Monochrome/Colorful" Release on 1/11
「Flower Theater 2016 ~THIS IS Flower~ THE FINAL」 on 1/16
Happiness


New Single "REWIND" Release on 2/8
「Happiness LIVE TOUR 2016 GIRLZ N' EFFECT THE FINAL」 on 1/17
SudannaYuzuYully
Debut Single "Oh Boy" Release on 3/1

DOBERMAN INFINITY
Nationwide tour 「DOBERMAN INFINITY LIVE TOUR 2017"TERMINAL"」
________________________________________________________________
HiGH&LOW
「HiGH&LOW THE MOVIE」
DVD&Blu-ray Release on 1/18
「HiGH&LOW THE MOVIE 2」
Nationwide Roadshow on 8/19
「HiGH&LOW THE MOVIE 3」
Nationwide Roadshow on 11/11
EXILE PROFESSIONAL GYM (EXPG)
Summer/Winter 「HOUSE OF EXILE 2017」 held in New York

New Sendai Campus open in March 2017

New Los Angeles, CA Campus open in Summer 2017

New Shanghai Campus open in 2018

「EX SHOW 2017」 held in 11 schools in Japan, one in Taipei
LDH Kitchen
IZAKAYA EXILE Open in July 2017

「LDH kitchen The Robata Los Angels」 Open Summer 2017
Dream For Children
「EXILE CUP 2017 ~ROAD TO EUROPE~」 in Summer 2017


「DANCE CUP 2017」
「Ocean's Love」

Source: https://www.ldh.co.jp/2017project.php
______________________________________________________________
For those that want a simple release schedule:
Spoiler
Don't expect these to be their only plans. This sounds like a schedule for the first part of 2017 + a rough outline of later in the year.