- The Official Mizushima Hiro (水嶋 ヒロ) Thread -
- Profile -
Also Known as: Satoshi Saitō (齋藤 智) [Pen Name]
Birthname: Saito Tomohiro (齋藤 智裕)
Occupation: Actor, Producer, Creative Director, Model, Writer
Birthdate: April 13, 1984
Birthplace: Tokyo / Japan
Height: 180 cm
Blood Type: AB
Education: Keio University (Environmental Information Degree)
Family: Ayaka Iida (Wife) and Daughter
Years Active: 2005 - Present
Official Website
Instagram
- Biography -
Mizushima was born in Tokyo on 13 April 1984. He has one older sister. When he was six years old, his family moved from Japan to Switzerland due to his father's job. He lived in Zurich, Switzerland for six years, where he became fluent in English and developed an interest in soccer. His family returned to Japan when he was twelve years old.

Mizushima went to the junior high school and the high school of Toin Gakuen and belonged to the soccer club of the school. When he was in the twelfth grade, he worked as a regular midfielder in The 81st All Japan High School Soccer Tournament. His team advanced to the semifinals, but, they were defeated by Kunimi High School that had Sōta Hirayama who played in the U-20 FIFA Youth Championship.
In April, 2003, Mizushima entered the Faculty of Environmental Information, Keio University. (He graduated in March 2008.)

In 2004, Mizushima began to work as a fashion model to earn money to study abroad while at college. Then he worked modelling in the fashion show for a while. However, he was spotted and recruited as a potential actor by the acting agency Ken-On and transferred from the modeling agency Gig Management Japan to Ken-On.
- Movies -
- Hatsukare (2006) X
- Lovely Complex (2006) X
- Kamen Rider Kabuto: God Speed Love (2006) X
- Kanojo to no Tadashii Asobikata (2007) X
- 100 Scene no Koi (2007) X
- GS Wonderland (2008) X
- Drop (2009) X
- Beck (2010) X
- Black Butler (2014) X



- Dramas -
- Ame to Yume no Ato ni (2005) X
- Brother Beat (2005) X
- Pink no Idenshi (2005) X
- Gokusen 2 (2005) X
- Watashitachi no Kyokasho (2007) X
- Hanazakari no Kimitachi e (2007) X
- Gout Temps Nouveau Drama Special (2007)
- Churaumi Kara no Nengajo (2007) X
- Zettai Kareshi (2008 ) X
- Room of King (2008) X
- Hanazakari no Kimitachi e SP (2008) X
- Mei Chan No Shitsuji (2009) X
- Zettai Kareshi SP (2009) X
- Mr. Brain (2009) X
- Tokyo Dogs (2009) X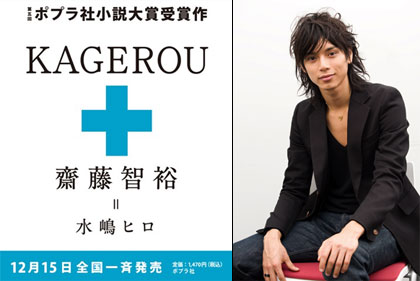 - Books -
- Kagerou (2010) X
- Photo Books -
- Hiro (2007)
- With You (2007)
- Hiromade (2008)
- Water Island: Peace (2009)
- Music Videos -
- Girl Next Door - Silent Scream (2011) [Guest appearance and co-scriptwriter] X
- Awards -
- Rookie of the Year" (Drop) - (33rd) Japan Academy Prize (March 5, 2010)
- Rookie of the Year - Elan D'or Award (February 4, 2010)
- 5th Poplar Publishing Grand Prize for Fiction for 'Kagerou' (October 31, 2010)