131129 WGM preview pics: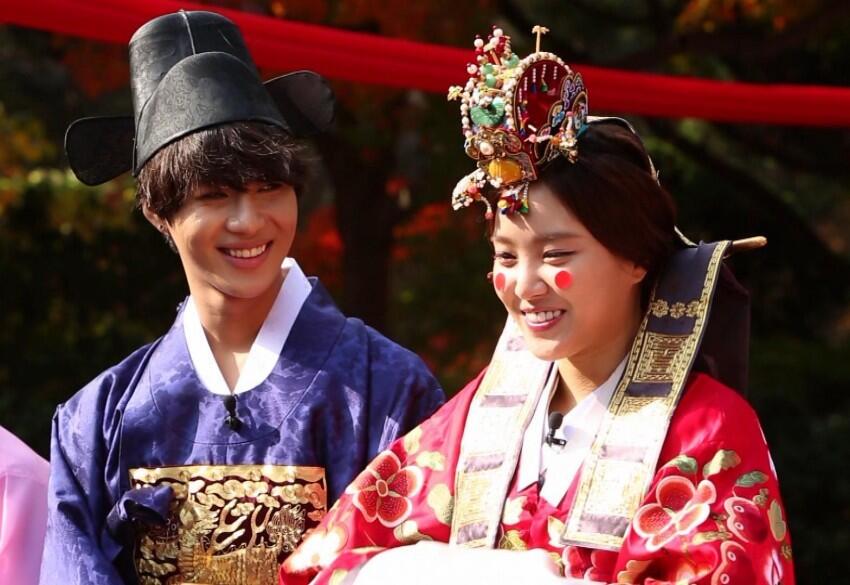 TaEun WGM Ep.32
[News preview translations]

Taemin-Naeun couple held a traditional wedding ceremony.

Last week at Jeju island, Naeun received a sincere letter from Taemin and he proposed to her.

On the coming episode, they held a traditional wedding and wore traditional wedding costumes. Naeun looked beautifully in the costume and as soon as taemin saw her, he said 'you look like a precious daughter from a rich family' and made the nervous naeun laugh.

Taemin interfered and said he would personally apply blush for naeun. However, he did not know if he should apply it on her forehead, chin or ear and therefore hesitated for a moment.

Meanwhile, they invited their real life close friends to the wedding. He introduced his friends, kai and suho whom he went through thick and thin with during his trainee days and also a non-celebrity friend, to naeun. Naeun invited close friend eunji to attend for the bride's side.

EXO's Kai, who was watching the traditional wedding, said he wanted to deliver a congratulatory speech for his special friend. He started off by telling naeun 'please take care of taemin well' and continued saying 'he gets jealous easily'. His explosive comment made taemin nervous.

Since he is taemin's close friend, he revealed taemin's true personality and also episodes of the both of them. He attracted attention when talking about the 'Human Taemin'.
translations all credits to zozofoox3

APINK Diary In Hongkong
cr:acubeent