F A K Y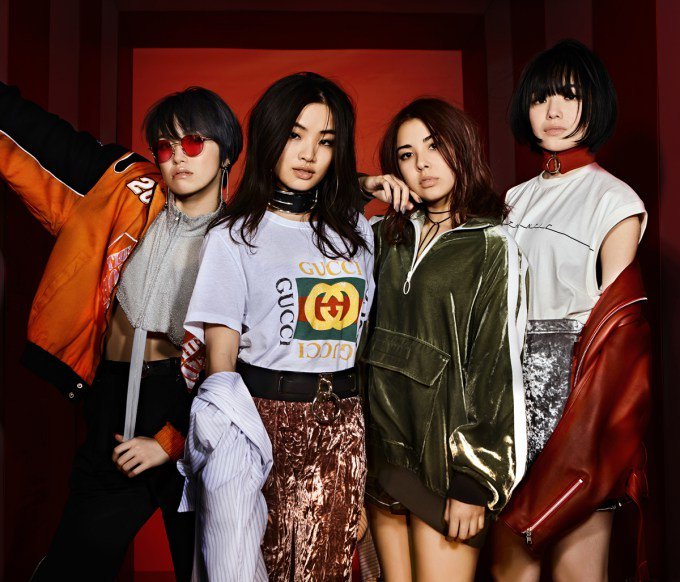 FAKY is a Japanese girl group formed under rhythm zone, a subsidiary of avex. The group consists of members Anna, Lil' Fang, Mikako, Akina, and previously Tina and Diane before their departure from the group on June of 2014. Their name is derived from the word 'fake' to challenge themselves to bring something new and real to the Japanese music scene.
During the beginning of July 2013, teasers of the group were released through avex's official YouTube channel and on the 29th they released their debut YouTube exclusive single "Better Without You". However it wasn't until January 2014 that they started to release their songs digitally. Their first single "P.O.V." was announced with a video shoot but was quickly cancelled in early 2014. On June 16th it was announced that the group would be ceasing activities for the remainder of the year and planned on making a comeback under a revamped FAKY in 2015. Nevertheless they decided to release a digital mini-album called The One in early July. During this time members Diane and
Tina decided to leave FAKY, stating differences in the direction the group was going. On September 2015 a comeback sign and a new FAKY logo were uploaded to their official social networks and website. On October 16th, the first teaser was uploaded for their return, titled "FAKY is BACK", and a new member Akina was introduced.
In 2016 their label, Avex, decided to make a supergroup consisting of FAKY, FEMM (duo group), and solo singer Yup'in called FAMM'IN. Overall with four different personalities and styles, the girls are ready to come together "as one" to share their passion and joy for music to the world.
____________________ MEMBERS _____________________
「 ANNA 」
THE LEADER OF FAKY AND A "CLASS ACT" WHO CONSISTENTLY MAINTAINS HER OWN STYLE
Real Name: Sawai Anna (澤井杏奈)
Birth Date: June 6, 1992
Place of Birth: New Zealand
Blood Type: A
Languages: Japanese, English
Hobbies: Music, Movies
23 years old, born in New Zealand, Anna spent her younger years in Hong Kong and the Philippines. Growing up on U.S. Pop songs, she aspired to be a singer after seeing Britney Spears perform. Anna, a student of ballet, came back to Japan when she was in fourth grade to audition for the leading role of "Annie", the musical. She landed the role as Annie on her second try the following year which kicked off her career in show business. Anna likes to keep her style "simple yet refined" which may be a bit misleading according to Mikako who says "Anna comes off as being somewhat of a cool princess, but she really has the sweetest heart". Akina follows, saying, "Anna is the leader, but leads us all in a way which we can all have fun". " I know that I have to lead the group, but I like to make my decisions after having extensive discussions with the entire group", says Anna who also mentioned that she prefers to "mellow out" to music in her down time.
「 LIL' FANG 」
A "TRUE ARTIST" WITH POWERFUL VOCALS AND ARTISTIC SENSIBILITY
Birth Date: November 11, 1993
Place of Birth: Tokyo, Japan
Blood Type: B
Languages: Japanese
Hobby: Baking
Lil' Fang who likes London street style fashion was inspired to be a singer when she witnessed Kumi Koda release 12 singles in 12 consecutive weeks. Lil' Fang listens to a wide range of music from j-hip hop, anime songs to rock music, saying that at one time, she also got caught up in the american singing competition craze on TV which prompted her to learn all of the classic European and U.S. hits. The name "Lil' Fang" was given to her by her music teacher as she started to take lessons in her junior year of high school. Lil' Fang was already an experienced artist in her own right by the time she joined FAKY singing English cover songs throughout the club circuit in Tokyo. " I think that I am the 'loud one' in the group. I like to talk, so I think I'm the one tasked with pumping everybody up before our live shows," (Lil' Fang). But don't be fooled says Anna, "Lil' Fang is wild, but actually the most girly out of all of us". Mikako backs Anna saying, "Lil is strong and aggressive, but she likes the cutest little things and is definitely the most girly in our group".
「 MIKAKO 」
THE TYPICALLY "CUTE" JAPANESE GIRL WHO IS AN ATYPICALLY POWERFUL PERFORMER
Birth Date: June 7, 1994
Place of Birth: Fukuoka, Japan
Blood Type: A
Languages: Japanese
Hobbies: Shopping, Going on car trips with friends
"I'm not sure what my exact role is in this group so I'm currently searching," says Mikako who always manages to be herself no matter what the situation. Not overly trendy in her style, Mikako is extremely approachable and has the power to instantaneously make everyone happy. "She is the one that everyone has fun with," says Lil' Fang. Mikako was first bitten by the show biz bug when she was in kindergarten. She quickly realized that "there was nothing else better in this world" than to perform for a crowd and she has worked hard to hone her skills as a singer and dancer ever since. "She is stubborn in a good way. She knows what she wants and goes after it," says Anna. Akina also attests to Mikako's work habits saying, "Mikako is always the first one to show up and she truly works hard." Musically, she is probably the biggest J-POP lover out of the four girls, but says that she has always liked girl bands both from Japan and abroad and that she always aspired to "create as a group". With FAKY, her wishes have certainly come true.
「 AKINA 」
TEENAGE CALI GIRL
Real Name: Akina Johnson
Birth Date: November 23, 1999
Place of Birth: California, U.S.
Blood Type: A
Languages: English, Japanese
Akina was born in California between her American father and Japanese mother and says that her role in the group is to "infuse the group with American culture." She spent her younger years in Okinawa, Japan, went back to the U.S., moved around a few places, then came to Japan again to join FAKY. "I'm used to moving around so I think that I'm great at making friends," says Akina who has quickly grown close with the other three girls. "Akina is much more mature than her age," says Anna. Mikako chimes in saying, "Akina is very perceptive and very much aware of her surroundings." Akina has been taking vocal and dance lessons since she was six years old and has recently been working on her songwriting skills with her guitar. Akina is definitely in tune with the current music scene listening to alternative R&B and electro artists such as The Weeknd and Years & Years. Fashion-wise, Vanessa Hudgens is definitely her "it" girl.
_________________ FORMER MEMBERS _________________
Spoiler
____________________ DISCOGRAPHY ____________________
[SINGLES]
Latest Releases:
Who We Are
Suga Sweet
Someday We'll Know
[OFFICIAL REMIXES]
BETTER WITHOUT YOU
Dave Aude Club Remix (Eng Ver.)
______________ COLLABS & FEATURINGS ______________
[FAKY]
No Boyfriend - Sak Noel ft. FEMM & FAKY (Jpn Ver.)
[ANNA]
The World Ends With You - World Sketch ft. Anna
[LIL'FANG]
Play The Game- Remute ft. Lil' Fang
[TINA]
[FAMM'IN]
_________________ OFFICIAL LINKS __________________
Website | Facebook | Twitter | Instagram | Youtube | Line | Blog