DISCLAIMER: This is a thread giving more information about Perfect All Kill (PAK), you have a choice of visiting this thread, reading my post or leaving it if it's not something within your interest. 
You may read this thread just so that you have a better understanding of PAK, not necessarily acknowledging anyone's success.
Perfect All-Kill on Instiz means that a song achieves #1 everything:
#1 on all realtime charts
#1 on all daily charts
#1 on Instiz Weekly Chart, which is updated

hourly

, by adding hourly points of the song into its weekly cumulative point, check Instiz Weekly chart by click this red circle (as you see, miss A is currently #1 on Weekly chart):
Because of this, a song can achieve PAK in the very beginning of the week (even in the first hour of its release) as long as it is #1 realtime and hourly and its cumulative weekly point is #1 on Instiz chart. For example, 2NE1's "Lonely" achieved PAK in their its first hour of charting:
miss A has achieved 3 SEPARATE PAKs so far with "Only You":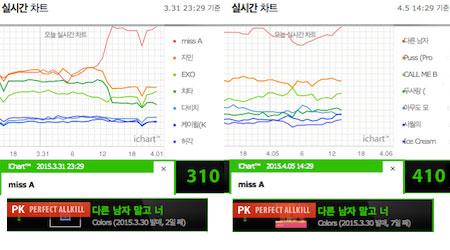 And Instiz recognized their 2 PAKs in 2 consecutive hours:
 

14:30KST

iChart™

퍼펙트★올킬(Perfect AK)을 축하합니다!! (20개 차트 올킬+아이차트 주간 누적 1위);miss A - 다른 남자 말고 너 ♪ iChart™ 아이차트 (@instiz_ichart)

15:30KST

iChart™

퍼펙트★올킬(Perfect AK)을 축하합니다!! (20개 차트 올킬+아이차트 주간 누적 1위);miss A - 다른 남자 말고 너 ♪ iChart™ 아이차트 (@instiz_ichart)  

 

 
A song can achieve multiple PAKs within a week as long as they maintain their #1 position on Instiz Weekly chart, all 10 major music sites' Daily chart and Hourly chart.
For example, SISTAR's "Give it to me" achieved 5 PAKs in 5 consecutive hours, dropped down, and climbed back for 2 more PAKs in 2 consecutive hours, as you can see in Instiz graph, it's a straight line at the top:
Conclusion:

I created this thread just to clarify people's misunderstandings about PAKs.
I do acknowledge that other artists have achieved multiple PAKs before but the achievement of miss A with 3 PAKs deserves to be celebrated by their fans and acknowledged by others, considering this is the first PAKs by a girl group since 2013 "Give it to me" which was 2 years ago, and you know how fast the music industry changes. 
Let's see how future releases will do this year.
This is the list of songs have achieved PAKs:
2011
Kim Yeon Woo - If You're Like Me
GG - I'm Having An Affair
Leessang - Turn Off The TV
Busker Busker - Cherry Blossom Ending
Busker Busker - If You Really Love Me
Naul - Memory of the Wind
Sistar19 - Gone, Not Around Any Longer
Huh Gak & Eun Ji - Short Hair
Busker Busker - Love, At First
Primary & Park Myung Soo - I Got C
Soyou x Urban Zakapa - The Space Between