Pledis Entertainment idol Ara Yoo (also known as stage name, Yooara or first name, Ara), most popularly known as having been the leader and one of the main vocalists of South Korean girl group Hello Venus, is now listed as an actress under UrbanWorks Entertainment.
http://m.blog.naver....nt/220187765603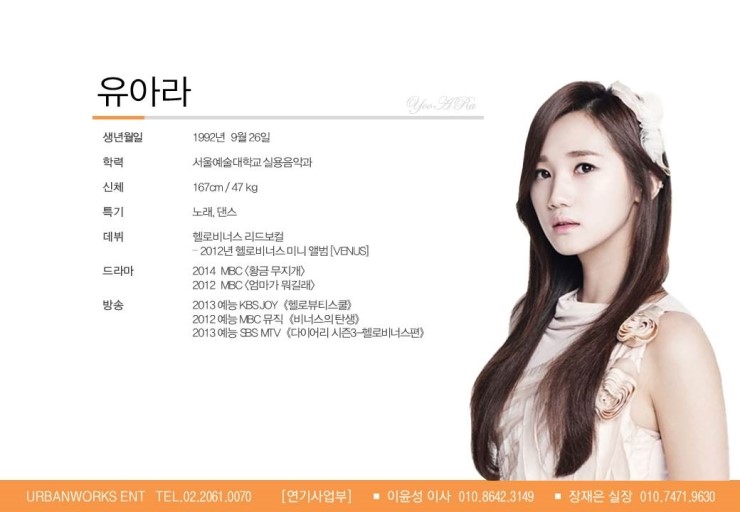 Current Speculation:
It is believed by some that she is still under Pledis, seeing as
she still had some time in her contract
most believe that she would choose to go to Fantagio as not only could they offer her as good or better an acting gig than UrbanWorks, but her former members are there as well
What's Happened So Far:
In May of 2013, Hello Venus came back with their third Mini Album titled, Would You Stay For Tea? (차 마실래?). Following their concluding promotions, Hello Venus was put on a hiatus that cumulatively lasted one year. Near the end of that year long period on July 31st, 2014, Tricell Media (Pledis x Fantagio for the sake of Hello Venus) announced that they had decided to terminate their partnership and thus the joint Hello Venus project would be discontinued. As such, the members who originated from Fantagio would return exclusively to Fantagio and those from Pledis exclusively to Pledis. The remaining four members of Hello Venus would continue on under Fantagio's exclusive management, while the two of Pledis were stated to pursue "various activities".