SBS Presents

Our Gab-Soon 우리 갑순이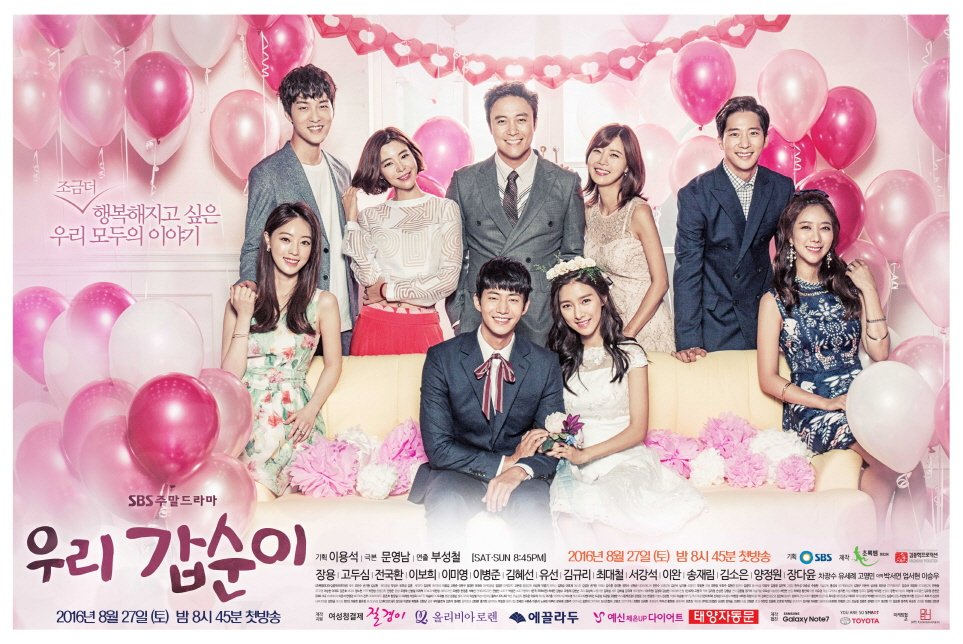 Director
Boo Sung Chul
(Mask, The Heirs )
Writer
Moon Young Nam
(Wang's Family , Live in Style)

Episodes: 60 (They started as 50 eps, after that the drama get extend to 60)
Broadcast: 2016-Aug-27 to 2016-Feb-12 (Saturdays at 8:45 KST)


About the Show
This drama depicts positively about various kind of marriage forms between the characters: a normal marriage, divorced couple, remarried couple, common-law marriage, and cohabitation couple.

Heo Gap Dol (Song Jae Rim) is an unemployed college graduate who has been trying to pass the civil service exam for years. His longtime girlfriend Shin Gap Soon (Kim So Eun) supports him by doing several part-time jobs in the hope of him finally passing the exam and proposing to her.
Genre: Family, romance, comedy

Production Information
"Our Gab-Soon" takes over the SBS Saturday & Sunday 21:00 time slot previously occupied by "Yeah, That's How It Is."


Cast of Characters
Cast
Kim So Eun as Shin Gab Soon
Song Jae Rim as Heo Gab Dol
Gab Soon's family
Jang Yong as Shin Jung Nyun
Go Doo Shim as In Nae Shim
Yoo Sun as Shin Jae Soon
Lee Wan as Shin Se Gye
Lee Mi Young as Shin Mal Nyeon
Gab Dol's family
Lee Bo Hee aa Nam Gi Ja
Kim Gyu Ri as Heo Da Hye
Yeo Bong Family
Jun Gook Hwan as Yeo Bong
Kim Hye Sun as Yeo Shi Nae
Jang Da Yun
Others
Lee Byung Joon as Geum Do Geum
Moon Sung Ho as Jo Geum Shik
Choi Dae Chul as Jo Geum Sik
Yang Jung Won as Jo Ah Young
Lee Seung Woo as Jae Soon's son
Source: Asianwiki | Dramawiki | Koreandrama
TEASERS